Tweet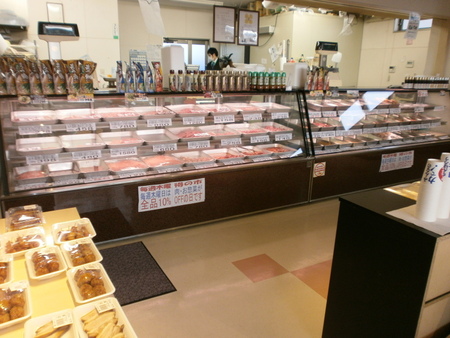 A professional eye selects all the meat we sell.
We sell choice and prime beef you can't find in a supermarket, and many unusual cuts. We sell the ever-popular yakitori (pork kashira meat) sliced for barbecuing. Light offal is boiled until tender and ready to use in your cooking. We stock Aizu Grade #1 horsemeat, so flavorful and tender! We have lots of domestic meat, but also a good selection of meats from Canada. (We are very scrupulous about the Canadian product to ensure its quality, something you can't count on in every shop. "Meat from this place and meat from this place only" we buy only from certain suppliers.
(loin with basil saut・*(pork shoulder garlic lots of sautee)*(offal in miso)*(beef short ribs, Korean barbecue flavor) etc. We make so many kinds of original products to delight the homemaker!
The owner tries out and then decides which side dishes are delicious and that he will sell. We sell Fukushima's famous handmade gyoza (daisangen).
We are meticulous about quality and taste, so please try once! Mail members get even more perks when they check in and shop here.



The store details
| | |
| --- | --- |
| Name | "Nikusen" Side dish and meat shop |
| Address | Koriyama City, Kuwano 4-4-51 |
| Hours | 10:00 to 20:00 |
| Closed | Wednesdays and holidays |
| Telephone | 024-924-0922 |
| Parking | 7 spaces |
| Access | Head down Uneme Street towards Otsuki. Pass Kuwano branch of York-Benimaru. At Kumano 4-chome intersection turn right (in the direction of Tomita). At the corner of the next intersection we are on the right. |
| Credit Card | No |
| Smoking conditions | Smoking is not allowed |

There is a case unlike a placed amount of money.