Tweet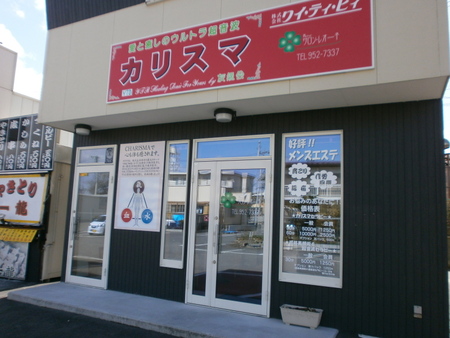 Relaxation is not only for women, but is necessary for men as well! Here we recommend a way to lose weight and be healthy.
First time visitors receive a one-time 15 minute palm health check. There are many pressure points in the palm of your hand as well as the soles of your feet. Simply apply for ultrasound and we can check this immediately. *Ultrasound is different from electrical systems, and there is no pain! By making a smooth flow of blood and good lymphatic condition, we can relieve painful symptoms such as back pains, anxiety, stiff neck, and fatigue.
In addition, in this cozy shop we insist you turn off your mind from worries and concerns. People have within them a natural healing power that we draw out. We find, listening to you and talking with you, the reasons for your stress; and through ultrasound massage discover the source of your ailments which we can make disappear by restoring the balance of body and mind. Always make an appointment when you visit us.


The store details
| | |
| --- | --- |
| Name | Salon-Leone |
| Address | Koriyama City, Otsuki-machi, Sugata 53-3 |
| Hours | 10:00 to 19:00 (Last start/order 18:00) *by reservation only |
| Closed | irregularly |
| Telephone | 024-952-7337 |
| Fax | 024-952-7337 |
| Parking | 3 spaces in front |
| Access | Take Uneme Street towards Otsuki and go past Route 4. Turn left at Koriyama Nispo Fitness Club, and soon turn right( at the MiniStop and SIKIBULUIRE) and you'll see us soon . |
| Credit Card | No |

There is a case unlike a placed amount of money.